Deer Lake Conservancy Watersheds
Our major projects are organized by watershed. The watersheds are the areas of land that drain to the lake. This map shows the major drainage areas or watersheds of Deer Lake. The Deer Lake Conservancy was established in 1995, and projects continue to this day. See individual watershed/project descriptions for more detail about each project. They add up to an exciting story of reduced runoff of phosphorus to Deer Lake, less algae growth in the lake, and improved water quality!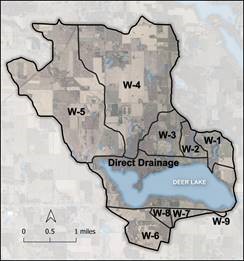 Major Projects
What we have tried to do is identify a key parcel in each of the largest watersheds draining into the lake that will allow us to control phosphorous and other pollutants which would otherwise flow unchecked into the lake. What we have is unique among lakes in Wisconsin. Our efforts have secured the ability to protect this lake for future generations.
Home Projects
Home Projects are described as homeowner initiated efforts to maintain water clarity through runoff management and shoreline buffering.
Trails Page
Deer Lake features many trails with parking in several locations. These trails are divided into north and south. 
DEER LAKE CONSERVANCY PROJECT TIMELINE
| | | |
| --- | --- | --- |
| Organization is Incorporated | | 1995 |
| W2 Basin Construction | | 1997 |
| W2 Prairie Planting | | 1998 |
| Dry Creek (W3) Property Acquired | | 1998 |
| W3 Sediment Basins | | 1998 |
| W3 Tire Dump Removal | | 1998 |
| W3 Wetland Restorations | | 1998 |
| Rock Creek (W4) Prairie Acquired | | 1999 |
| W4 Gravel Pit Restoration | | 1999 |
| W3 Prairie Planting | | 1999 |
| Blakeman Hill(W1) Easements | | 1999 |
| W1 Wetland Restoration | | 1999 |
| Trail system Developed (W3 and W4) | | 2000 |
| Flagstad Farm Acquired | | 2002 |
| Flagstad Farm Prairie | | |
| Flagsted Farm Well Closure | | |
| Flagstard Farm Prairie Maintenance (NRCS) | | |
| Flagstad Farm Gravel Pits Restored | | |
| Maple Cove Prairie Donated | | 2003 |
| Foussard Kane Forest Donated | | 2006 |
| Direct Drainage Project Begins | | 2006 |
| WDOT Releases Highway 8 EIS | | 2007 |
| Prokop Stormwater Ponds and Easement | | 2008 |
| McKenzie Forest Acquired (addition to Rock Creek) | | 2009 & 2011 |
| Schletty Stormwater Ponds and Rock Waterway | | 2009 |
| St. Croix River Association Stewardship Award | | 2011 |
| Direct Drainage Projects Installed | | 2008-2020 |
| W1 Pond Updated (outlet and ditch checks) | | 2015 |
| NALMS Lake Management Success Award | | 2015 |
| Lower Rock Creek Aquisition and Trails | | 2016 |
| Sedimentation Basin Installed | | 2017 |
| Johnson Preserve Acquisition and Trails | | 2017 |
| W1 North Pond Acquisition | | 2020 |
| | | |